February 2021 - SFIA 8 consultation update
A 2 minute update on the SFIA 8 consultation - and a reminder of how you can get involved.
Estimated reading time - 1 min, 54 secs.
First of all - many thanks to all who have contributed to SFIA 8 so far - it's a community effort and all your help is much appreciated.
NEW feature - Links to related SFIA skills
We have added a new website-only feature - displaying links to related skills on each SFIA skill page
This provides another way to locate the SFIA skills you are looking for 
This feature is a navigation aid - not part of the core SFIA framework. Here are some examples ...
It complements the other ways to find skills - the A to Z page and SFIA's views including the SFIA full framework view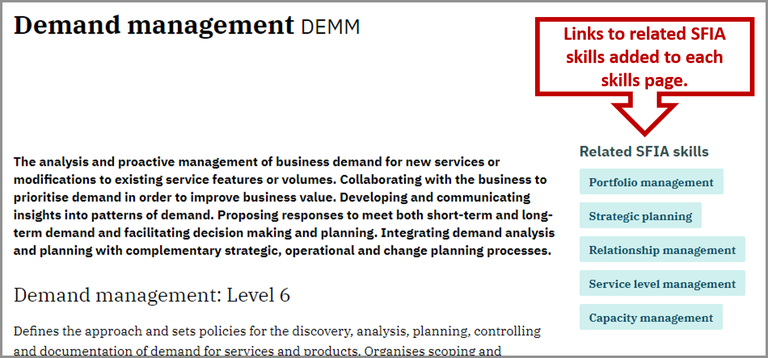 SFIA 8 change log...
As we approach the conclusion of the SFIA 8 consultation - please keep an eye on the change log to see the current status
Please take some time to browse the log and bookmark the page for future reference
All comments are welcome.
Behavioural factors
This work is progressing and was reviewed at the latest SFIA Design Authority meeting - details available here
Next steps are to agree how we should present the behavioural factors e.g. on the website and the SFIA reference material
We are also planning updates to SFIA's levels of responsibility and these will be reflected in the behavioural factors
Mapping SFIA skills to the BABOK
The IIBA UK has collaborated with SFIA to produce draft mappings of the six knowledge areas of the Business Analysis Body of Knowledge to relevant skills within the SFIA Framework.

IIBA UK held a webinar on Monday 15th February . The recording will be published on the IIBA site shortly - in the meantime it can be viewed on the SFIA Foundation YouTube channel

Topics including introduction to the BABOK knowledge areas and combining the SFIA framework with the BABOK to support professional development for business analysts 
NEW - Guidance notes for individual skills...
Last month we told you about a prototype to include guidance notes for individual SFIA skills
The aim is to improve readability and help users applying SFIA skills appropriately
We have received positive feedback on this - and have been extending the coverage
Around 30 SFIA 8 skills now have guidance notes for review. More will be added as we progress through the SFIA 8 project.
You can find an index to the skills with guidance notes on the change log
This page has further background on this proposal.

Please read the page - especially if you use the SFIA Excel spreadsheet to populate tools or documents.

We want to include more people…
If you would like to help with SFIA 8 or share your ideas with the SFIA Foundation, then contact me
You can invite others to join in…
SFIA Updates Manager & SFIA 8 Project Manager