SFIA 8
SFIA 8 is the new version of the global skills and competency framework for the digital world.

The background
Evolution of SFIA
First published in 2000, SFIA has evolved through successive updates as a result of expert input by its global users to ensure that it remains relevant and useful to the needs of the industry and business.
SFIA originated as a framework for the ICT community. It has evolved to be a framework that defines the skills and competencies required by business and technology professionals who design, develop, implement, manage and protect the data and technology that power the digital world.
Within the scope of SFIA are many of the world's most in-demand occupations, encompassing professionals working in areas such as — but not limited to:
information and communications technology
business change
digital transformation
data science and analytics
software engineering
information and cyber security
learning and education
applied computing and computational science
user centred design
digital product development, sales and marketing
human resource and workforce management.
SFIA 8 continues the evolution. It has been updated in response to many change requests from industry. Many of the existing skills have been updated and additional skills introduced but the key concepts and essential values of SFIA remain true, as they have done for over 20 years.
SFIA's design principles and structure are unchanged
One of the reasons for the great success and global footprint of the SFIA standard is that it reflects reality within industry. The SFIA levels describe recognisable levels of responsibility and accountability — this is universally liked by SFIA users.
This is why the structure of SFIA has remained the same — 7 levels of responsibility characterised by generic attributes which describe behavioural factors, along with professional skills and competencies described at one or more of those 7 levels.
SFIA is used across a breadth of business and professional functions. Many roles in industry are blended and require a mix of technical and non-technical skills and SFIA is ideally suited to this.
The SFIA 8 content
Browsing SFIA 8 web pages
For those who want to go straight to the content of SFIA 8. Here you can find... 
SFIA 8 documentation
A number of documents are available for download. 
These include:
new look summary chart - skills and responsibilities 
2 pdf reference manuals - plus 3 new appendices
skills and responsibilities spreadsheet - for importing content for your own tools and documents
behavioural factors in SFIA 
You need to be registered and logged in to the site to access the documents. You can register here. 
Any problems accessing documents (not for password changes) please contact [email protected]
If you have problems accessing the Sharepoint folders - there is a Slideshare link at the bottom of this page.
Click the image below for full details of all the new and changed documents for SFIA 8.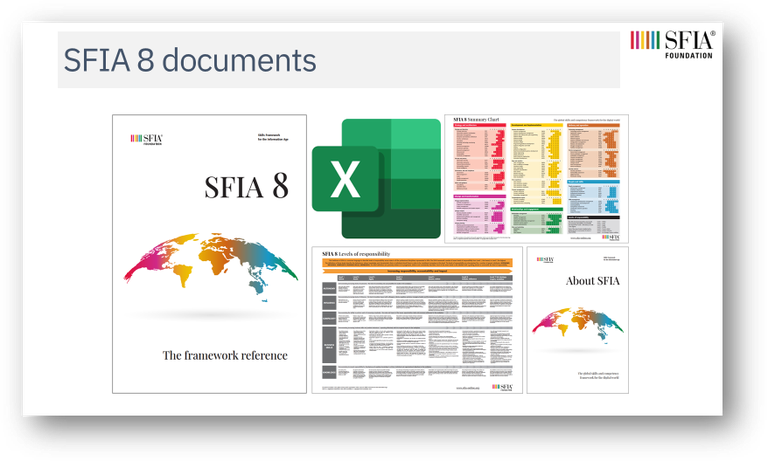 The story behind the content
How SFIA is updated
Click the image below full details of the SFIA 8 consultation and update process changes.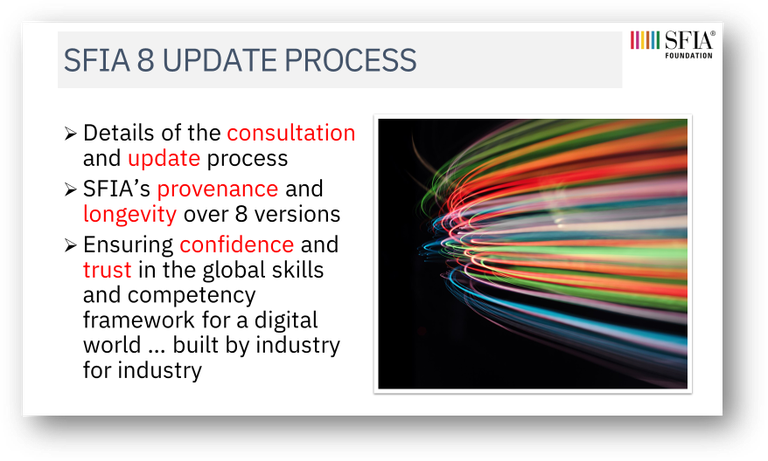 SFIA 8 content changes - the professional skills
Click the image below for details of the changes to the professional skills for SFIA 8.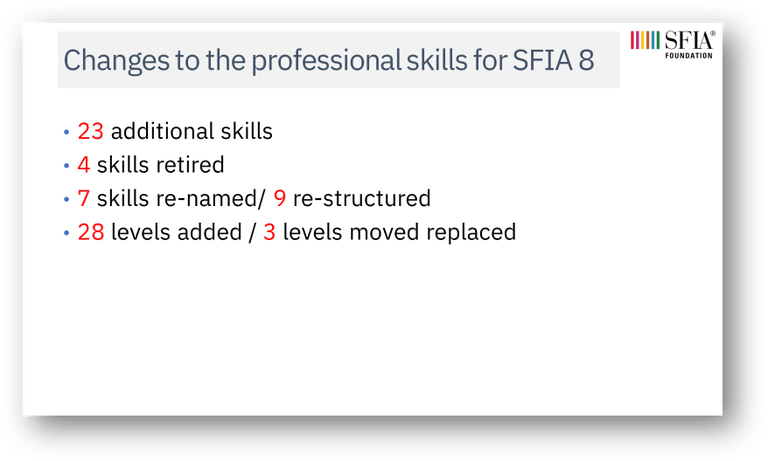 SFIA 8 content changes - the generic attributes
Click the image below for full details of what's new and changed.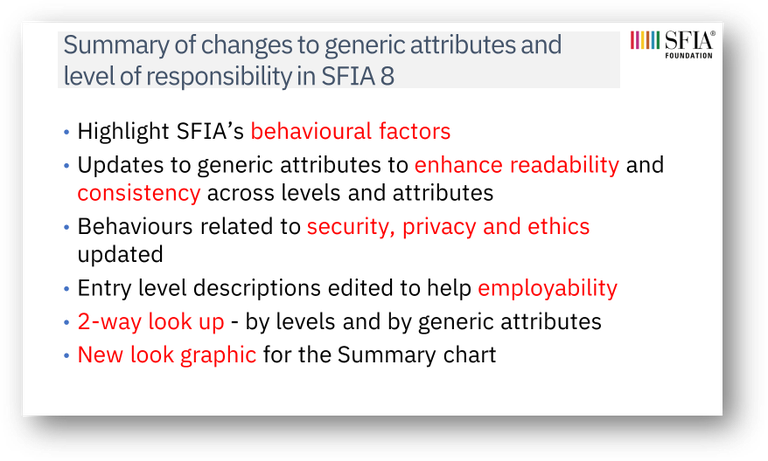 SFIA 8 Readability improvements
Guidance notes
Concise skill definitions
Shorter sentences
Re-ordering the skill levels
Re-ordering and re-formatting the sentences within the skill level descriptions.
Click the image below for further details on the readability changes for SFIA 8.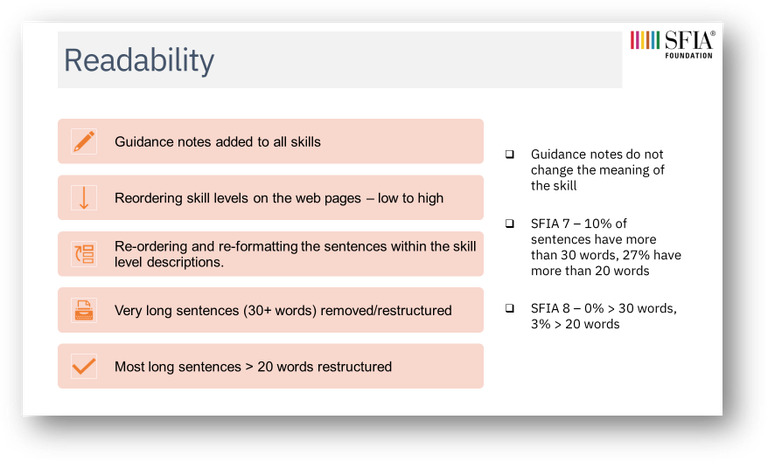 SFIA 8 theme-related changes
As with previous updates, a number of themes were reviewed. Addressing a theme allows the framework as a whole to be reviewed for a particular context.
Click the image below for details of the theme related changes for SFIA 8.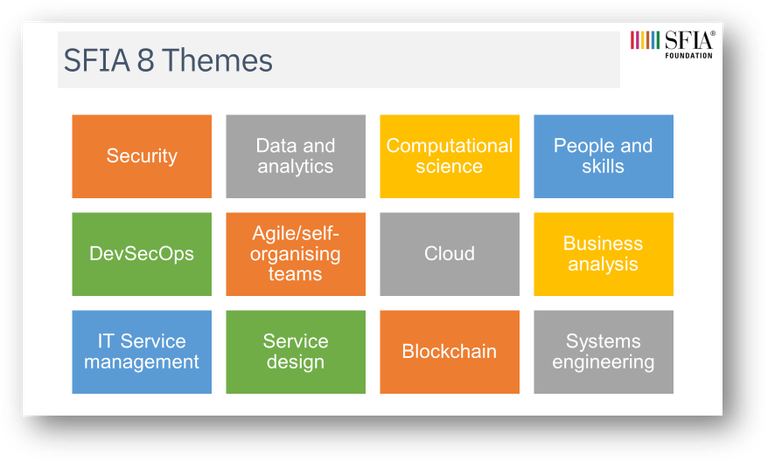 SFIA 8 - options for navigating the SFIA framework
Click the image below for full details of what's new and changed with navigation for SFIA 8.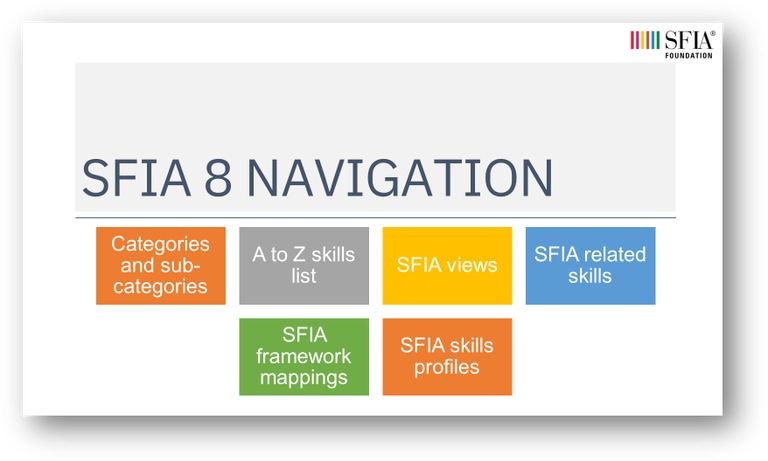 Moving to SFIA 8
Planning your adoption of SFIA 8
It includes
general guidance for adopting SFIA 8 whether you are currently using SFIA 7 or previous versions of SFIA

specific details on the content of SFIA 8 and how it has changed from SFIA 7.

Full details here - Moving to SFIA 8
Click the image below for full details of information available to support you in moving to SFIA 8.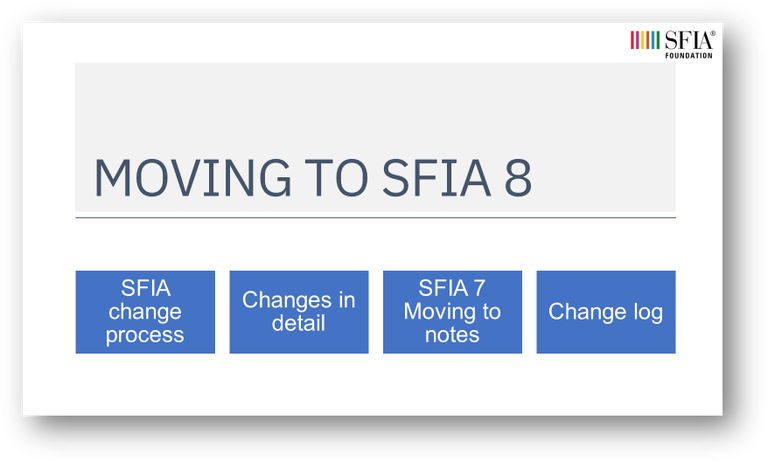 The SFIA ecosystem
More than just a skills and competencies framework
This describes some of the range of activities of the SFIA Foundation. They are not core elements of the SFIA Framework and may not be generally visible to the user community but they are key to the Foundation's activities. 
Including
User guidance
Mappings to industry frameworks
Links to industry bodies of knowledge
SFIA accredited partners and specialists
Skills mapped to standard roles
SFIA accredited training 
Not-for-profit stewardship of the SFIA framework
Click the image below for full details of the SFIA ecosystem.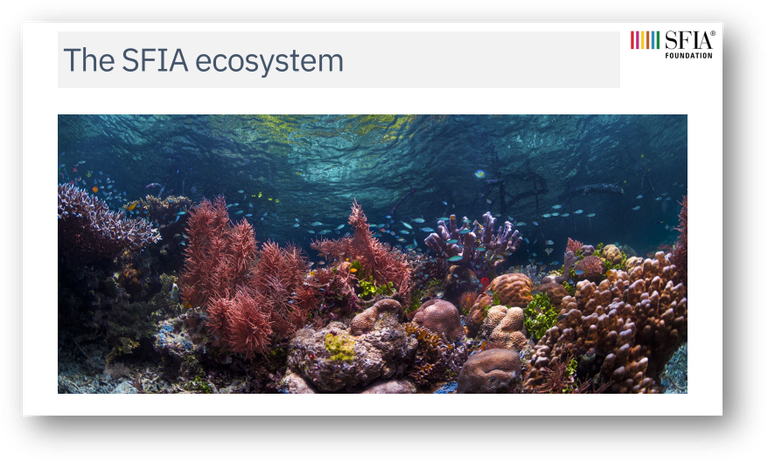 The complete set of SFIA 8 slides
View all the slides on Slideshare below.
Or download the complete set of SFIA 8 launch slides here.
The Thank You's
The community
Once again, I am very grateful to Peter Leather, who acted as both the SFIA 8 Update Manager and technical consultant/subject matter expert.
Most importantly, thanks are owed to the vast community of SFIA users, volunteers from around the world, covering hundreds of organisations, who provided requirements, reviewed change requests, suggested solutions, and drafted or reviewed content. SFIA continues to be translated into 11 languages — with more planned in 2022. A list of SFIA contributors and supporters is here.
SFIA is more than just the Framework, there is an entire ecosystem supporting it which is why SFIA has become the world's most widely adopted skills and competency framework.
The global SFIA 8 Design Authority Board
Special thanks to the global SFIA 8 Design Authority who have worked hard, often at inhospitable times, to deliver a quality result on behalf of the SFIA community. 
Ian Seward
General Manager — SFIA Foundation
Chair — SFIA Design Authority Board
September 2021
Email: [email protected]