User forum resources for download
Note - links to download the resources will appear on this page when you are logged in to the site.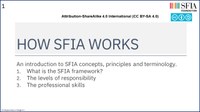 Available to download...
Self assessment of SFIA behavioural factors as pdf
Recruitment and SFIA behavioural factors
Role profiles and SFIA behavioural factors
pdf slides for SFIA fundamentals - basic awareness and education for employers and employees
We encourage you to use the slides in your own training and education material.
Licensed under Creative commons Attribution-ShareAlike 4.0 International (CC BY-SA 4.0)
All the documents are free to get if you are registered on this site. Registration will allow you to select a free user licence.
Important - you do need a licence to use SFIA...
The SFIA Foundation maintains and distributes SFIA using a licensing system.
The SFIA Foundation is a not-for-profit organisation
The SFIA licence is free

 

for personal career development - and for most internal use by employers in the management of their people.
There is a modest licence fee for large organisations using SFIA and for organisations that use SFIA for commercial purposes
The licence fee supports the continued development of the framework and ecosystem support
Organisations and individuals who contribute a licence fee can be proud that they are helping the continued development of the industry
There are currently no items in this folder.