SFIA fundamentals - how SFIA works
An introduction to SFIA concepts, principles and terminology.
If you wish to understand SFIA concepts, principles and terminology, this page provides an introduction and explains how SFIA works.  We offer two learning formats:
A slide-set: How SFIA works, which may be viewed on this page.  Many slides are accompanied by explanatory text and useful hyperlinks

If you are logged in, you can download the PowerPoint slides to support your internal SFIA awareness programmes, or download as a PDF file for sharing.)

A quiz: The SFIA fundamentals quiz is designed as a learning aid, providing useful feedback on both correct and incorrect answers.  

More information on the quiz and guidance on the platform it's hosted on, can be found here


You can view each image full-size by clicking on it.
Logged in users can get a copy of the the slides in Powerpoint
You can register as a new user here.
How SFIA works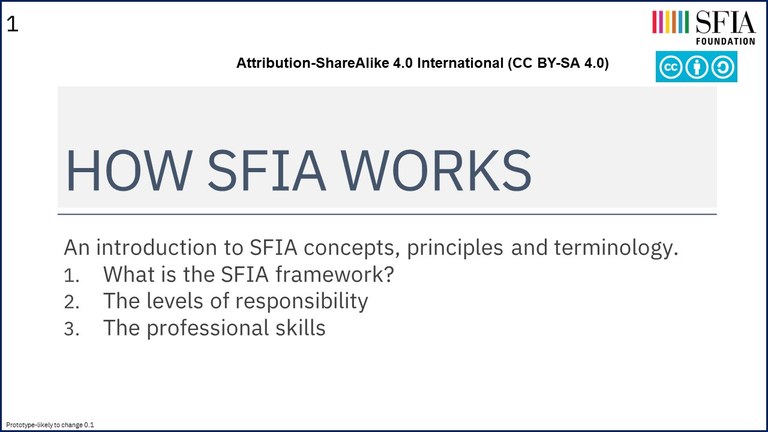 ---
What is the SFIA Framework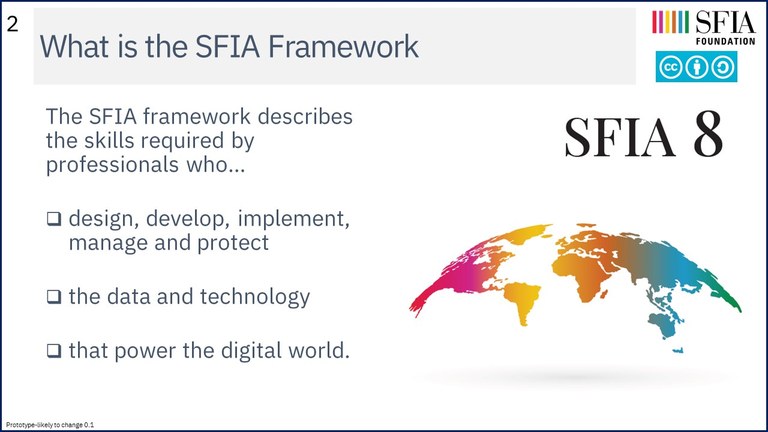 SFIA describes the skills required by professionals who are responsible for designing, developing, managing and protecting both the data and the technology that power the digital world
SFIA does not set out to define or restrict what such professionals can or cannot do – it seeks to reflect practice in the real world, based on the experience of the SFIA user community.
It's a broad framework – reflects the evolution of industry and blurring of boundaries between roles and organisation structures.
Find out more
- About the not-for-profit SFIA Foundation
- About the history and evolution of the SFIA framework
---
What does SFIA describe?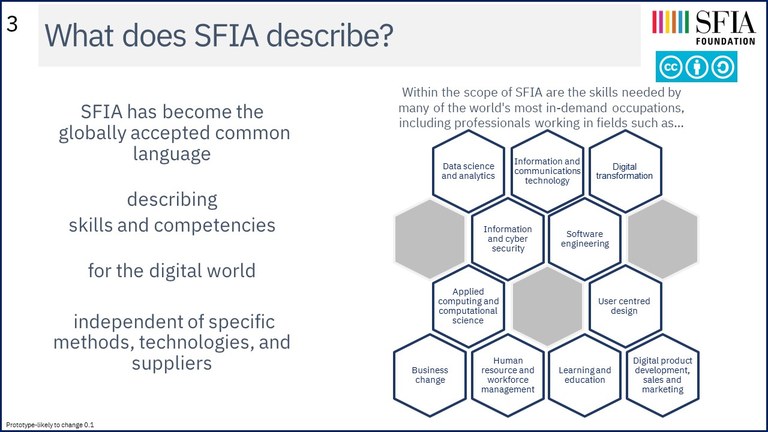 One of the major benefits of SFIA is that it provides a common vocabulary and language for describing skills and competencies in a way that is completely agnostic about specific technologies or proprietary methods or tools.
Rather than trying to describe complete jobs or roles, SFIA describes the skills needed for a vast range of crucial jobs in the digital economy – some of the areas covered are shown in the figure on the right.
Many jobs in each of these areas will need two or more SFIA skills. The ability to combine skills to describe a job or role contributes to the power of SFIA.
Find out more
- SFIA 8 - illustrative skills profiles
---
SFIA workplace responsibilities and skills
---
Analogy - SFIA as a dictionary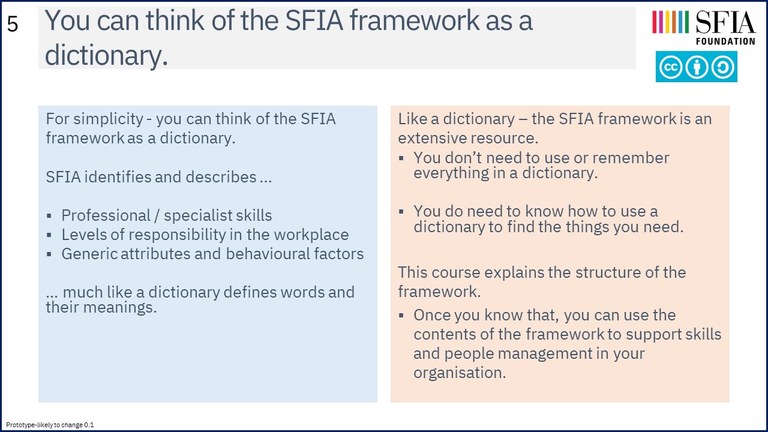 ---
Skills management using SFIA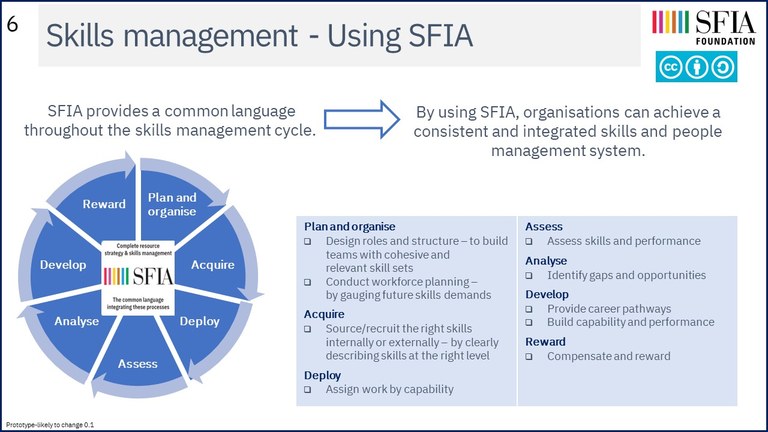 Find out more
-SFIA and skills management
---
Independent of specific methods, technologies and suppliers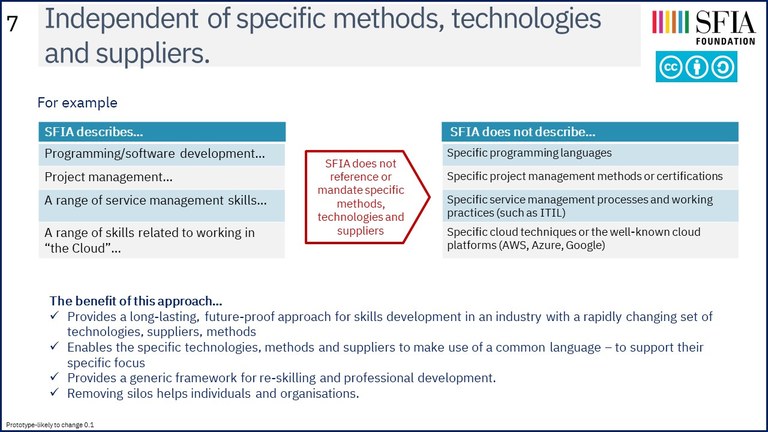 The benefit of this approach…
Provides a long-lasting, future-proof approach for skills development in an industry with a rapidly changing set of technologies, suppliers, methods
Enables the specific technologies, methods and suppliers to make use of a common language – to support their specific focus
Provides a generic framework for re-skilling and professional development.
Removing silos helps individuals and organisations.
You can align SFIA skills and the specific methods and technologies that your organisation uses
Find out more
- SFIA complements technology specific knowledge-based certifications
---
Why organizations choose SFIA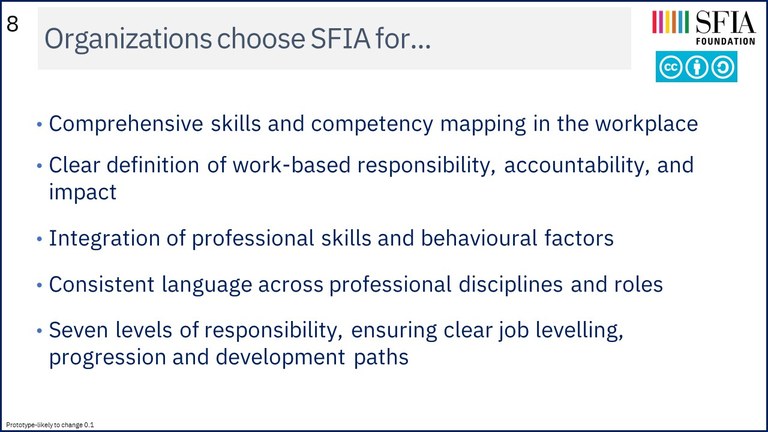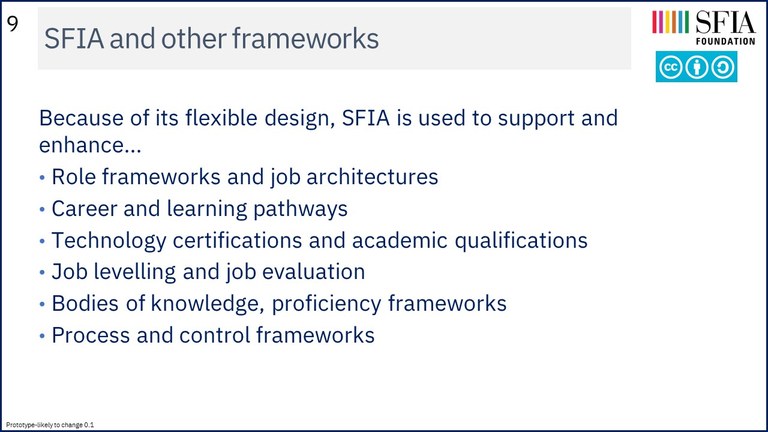 SFIA supports and combines well with other frameworks such as
Qualifications framework – describes levels of academic achievement
Role framework – describes jobs, roles and career groups aka job architectures
Job evaluation – sizing jobs for compensation and benefits
Proficiency framework– describes levels of knowledge and expertise in a particular topic
Bodies of knowledge - structured knowledge that is used by members of a discipline to guide their practice or work.
Career framework/learning and certification pathways – describe options for developing skills, competencies and experience
Performance management frameworks – describe achievement of organisational/personal objectives
Process and controls frameworks – describe standards, guidelines and best practices (e.g. NIST, CoBIT, ITIL)
Find out more
- Tools and resources 

---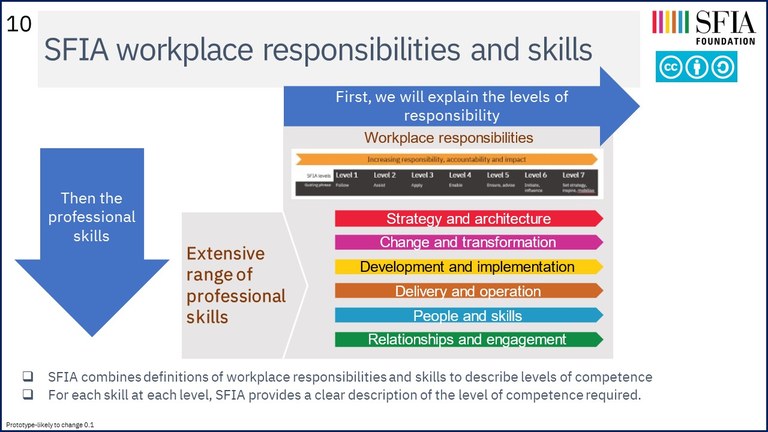 ---
7 levels of responsibility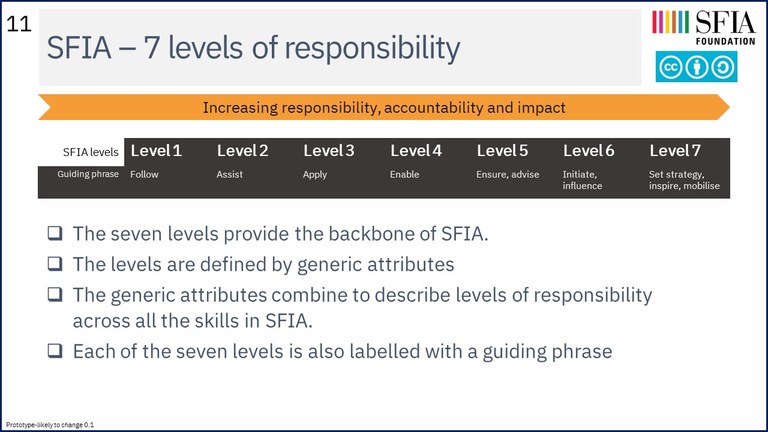 ---
5 generic attributes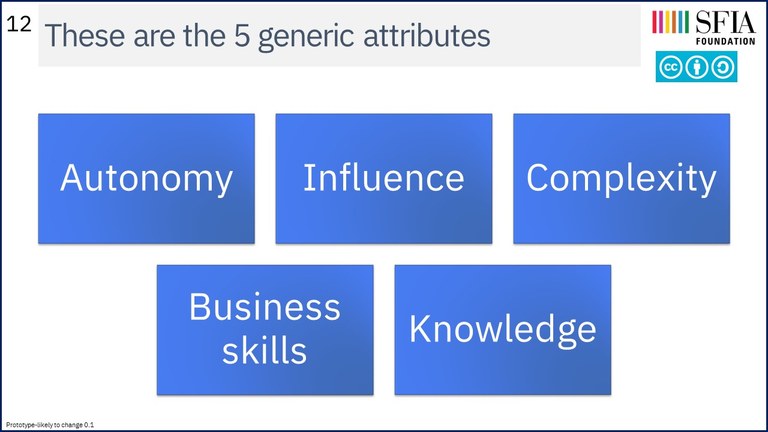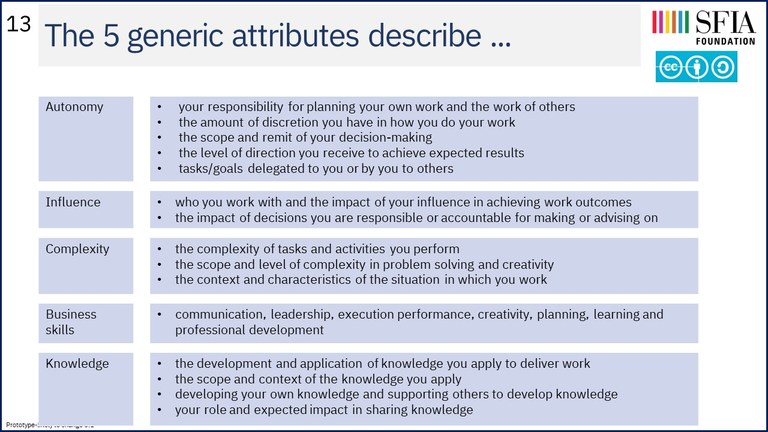 ---
5 generic attributes described at 7 levels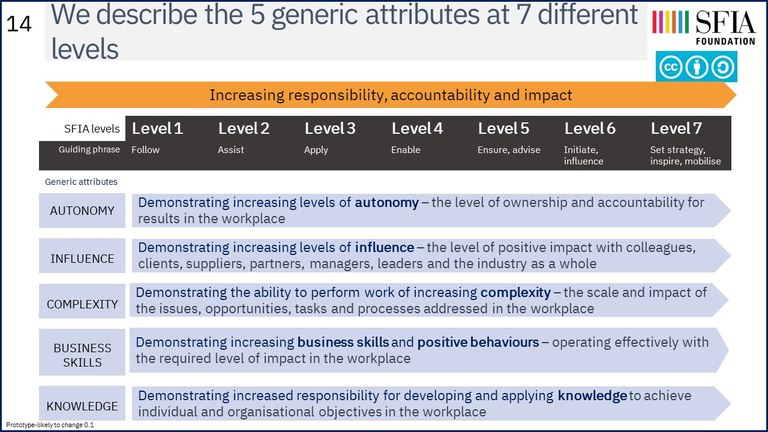 ---
Concise summary of the levels
These are concise summaries for awareness only. They are not part of the framework.
Refer to SFIA reference material for full descriptions of generic attributes.
---
Each levels is described in detail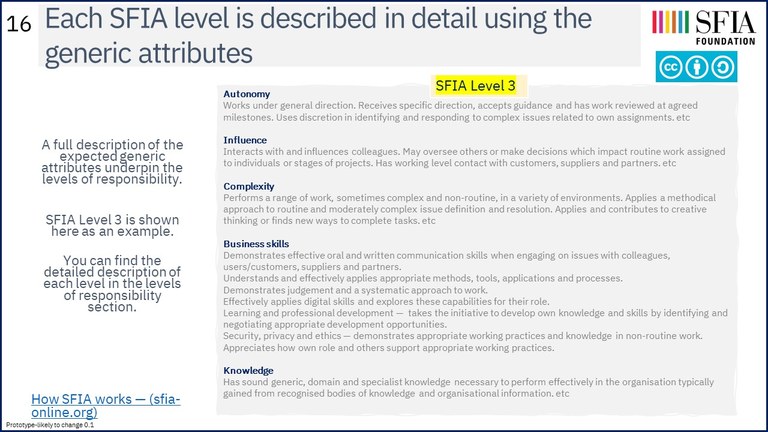 ---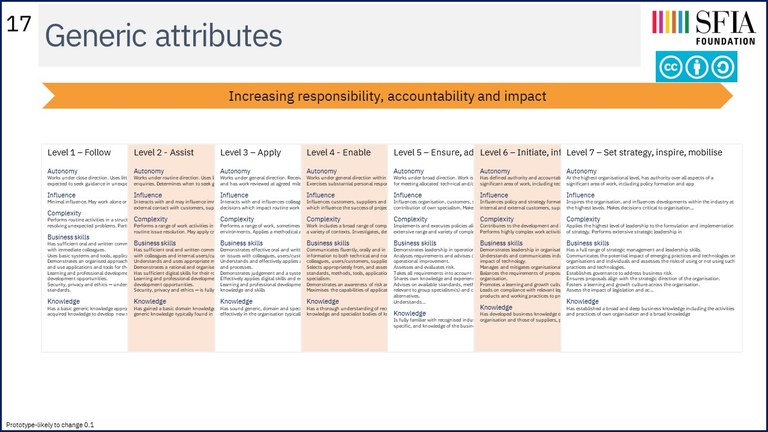 Find out more
- Levels of responsibility
- Behavioural factors
---
Illustration of SFIA levels in the workplace
Every employer has their own context. So these are illustrative only - provided for awareness training only.
They are not part of the framework.
These illustrations will be familiar to organisations who use industry/proprietary approaches for job levelling.
Find out more
- Other illustrative examples
---
Level progression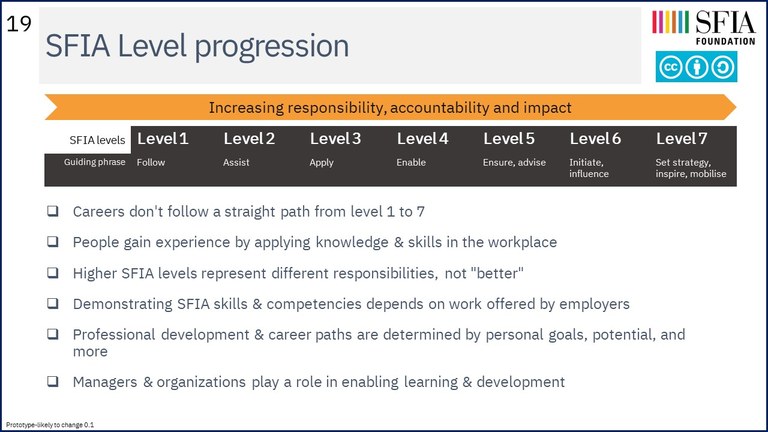 In the workplace careers do not progress in a linear way from  level 1 to level 7
Gaining experience is not a linear path. By applying knowledge and skills in a workplace setting, experience is gained and as people develop their experience in this way, they also build their knowledge and skills and develop their behaviours [from The context for SFIA]
The higher SFIA levels are not an expected career destination for everyone.
Many people do not want to have the levels of responsibility, accountability and impact needed to perform roles and jobs at the higher SFIA levels
Career progression can be multi-dimensional combining vertical, horizontal and in-position development
The opportunity to demonstrate SFIA skills & competencies at a particular level is determined by the type and level of work offered by employers
Individual contributor and managerial/line management equally supported in SFIA
Individual professional development and career paths are…

driven by opportunity, personal life goals, interests, potential, learning mindset, consistent delivery of work objectives
enabled by managers and organisations providing opportunities and encouraging personal development
Find out more
- The context for SFIA

---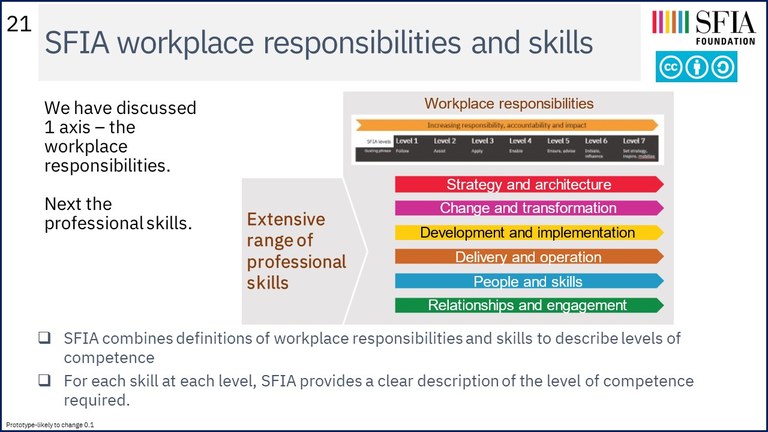 ---
A wide range of professional activities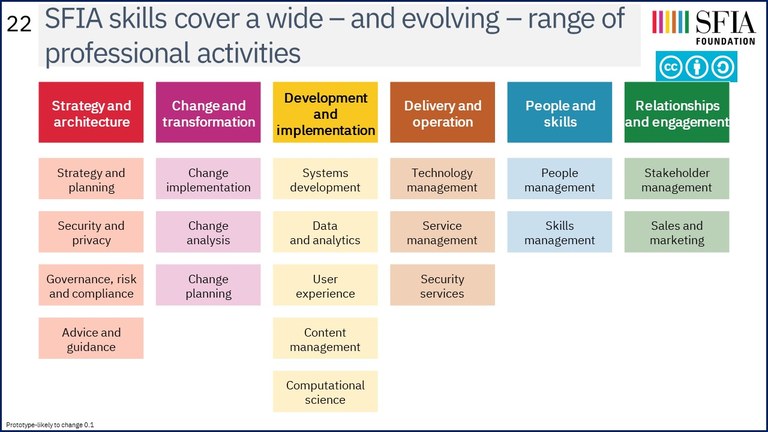 ---
Summary chart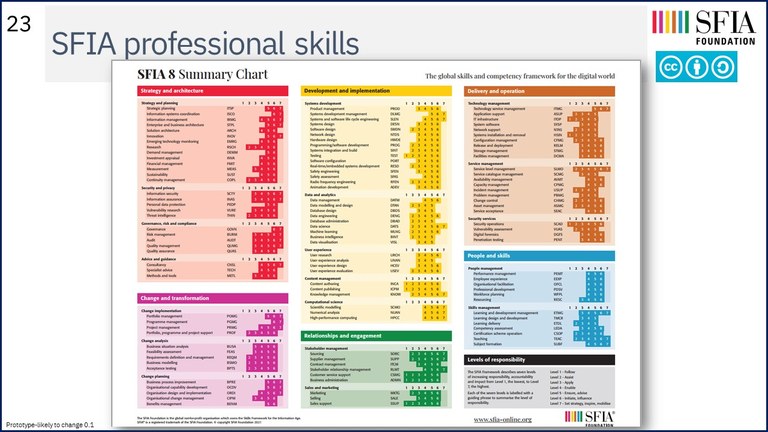 ---
Not all skills are defined for all levels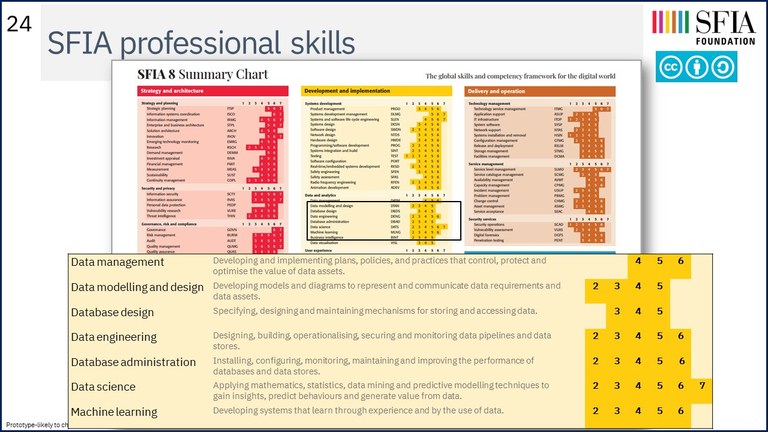 Not all skills are defined for all levels. 
For these six skills, all are defined for levels 3, 4 and 5, and all but data visualisation at level 2. 
Four are defined at level 6 – data management, data engineering, data science and machine learning. Only data science extends to level 7.
This reflects the user community's experience of the levels at which each of these skills is actually performed – or needed – in the real world.
---
The full professional skills description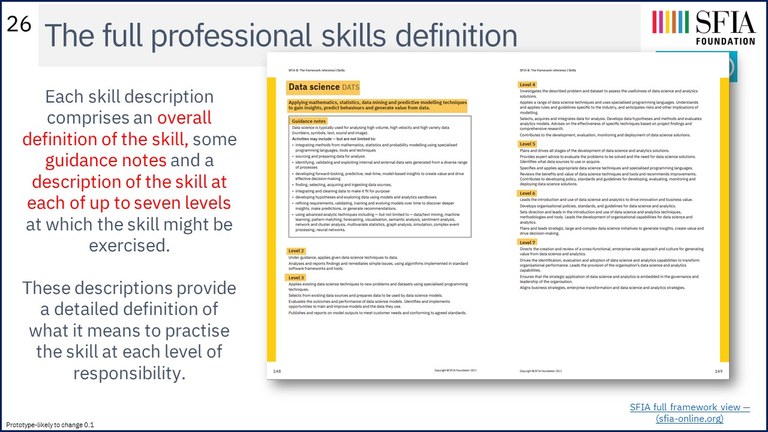 Find out more
-SFIA professional skills
---
Professional skills and generic attributes work together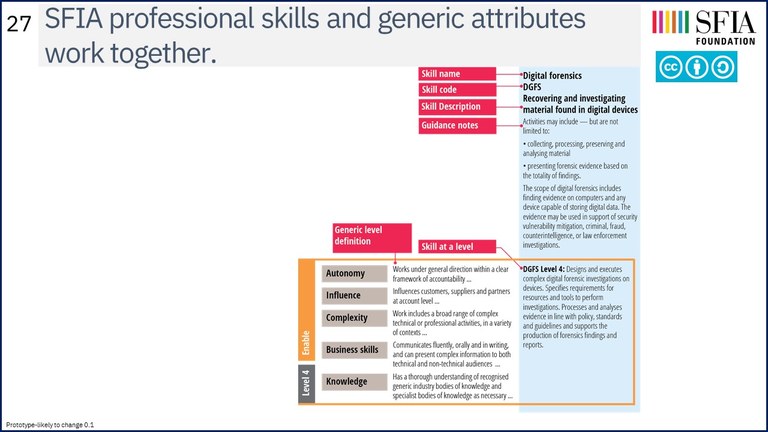 The consistency of the levels of responsibility carries forward into the professional skills.
A description of a skill at a level is written so that it is consistent with the level of responsibility at that level.
This approach ensures the consistency of the levels throughout the whole framework, making it solid and robust.
It also integrates behaviours/behavioural factors and professional skills at a level combining to describe overall responsibility, accountability and impact.
Find out more
- How SFIA works
---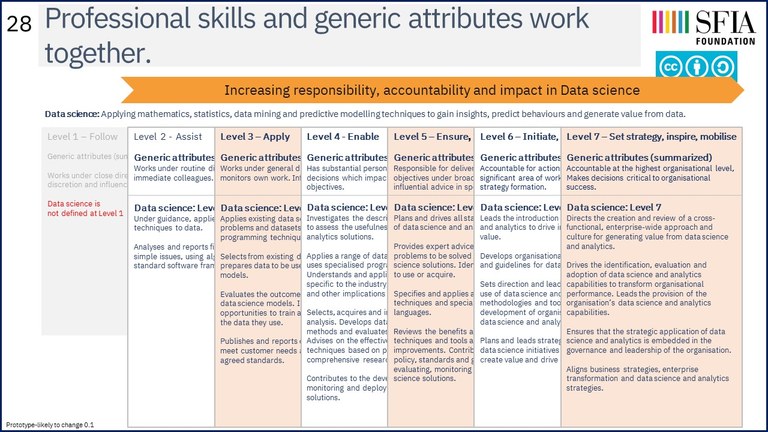 Not all skills are defined for all levels.
In this example - data science is NOT defined at level 1.
---
SFIA describes skills - not roles or jobs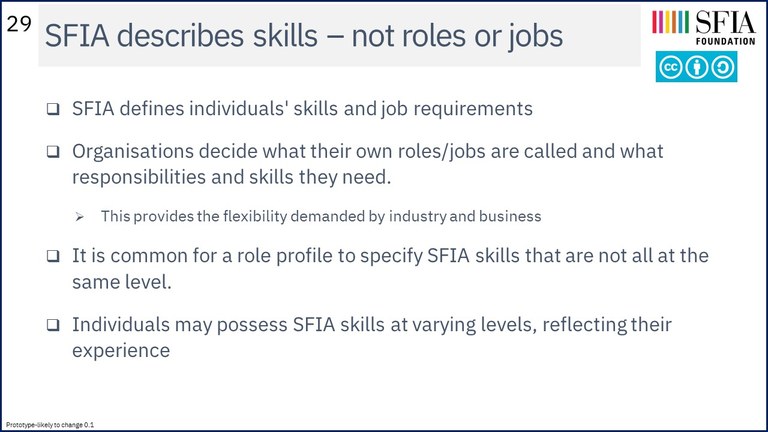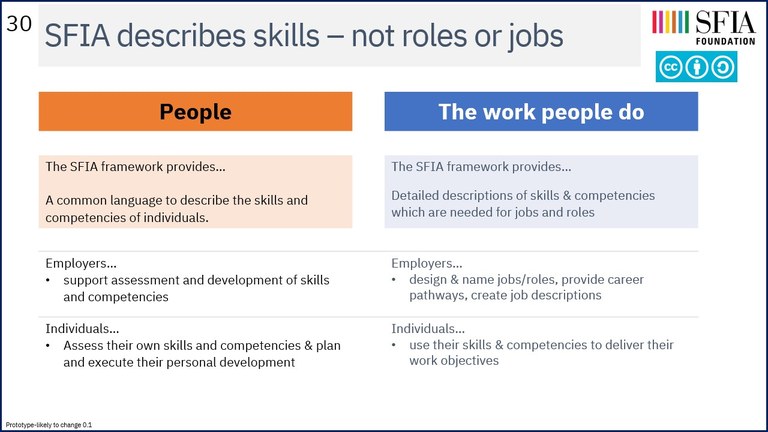 The same language is used to define the skills and competencies of people and the skills needed for jobs/roles/duties that people perform. 

Employers…
Support assessment and identification of gaps
Help prioritise and fill gaps in line with individual and organisational needs
Individuals…
Assess their own skills,
Plan and execute actions needed to develop their own skills and competencies
Employers…
design & name job roles, provide career pathways
align required SFIA skills and levels to jobs/roles/duties
Individuals…
use skills & competencies to deliver work objectives
---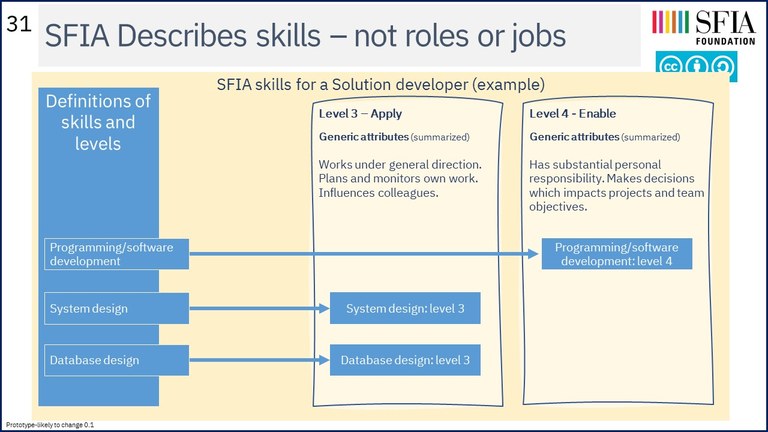 For a simplified example.
After analysing job responsibilities – the organisations determines the SFIA skills for a Solution developer.
Programming/software development
System design
Database design
They are a mix of SFIA level 3 and SFIA level 4
SFIA's generic attributes help position the level of competency required. The SFIA skill at a level descriptions provide the specific requirements.
---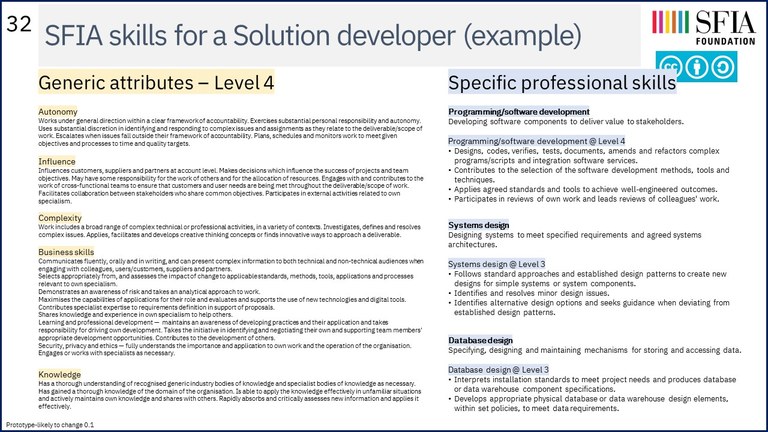 SFIA's generic attributes help position the level of competency required. 
The SFIA skill at a level descriptions provide the specific requirements.
---
Get the slides
- Logged in users can get a copy of the the slides in Powerpoint
Check your knowledge of SFIA
Once you have studied the slides above you can review and confirm your understanding of SFIA by taking the SFIA fundamentals quiz.
The quiz is not a formal exam and does not lead to a SFIA accreditation. It is intended as a learning aid and is complementary to the slides on this page. 
More information on the quiz and guidance on the platform it's hosted on, can be found here - SFIA fundamentals quiz