Behavioural factors in SFIA update February 2021
This page contains the slides and a summary of proposed change for the generic attributes from the working group looking at behavioural factors and levels of responsibility. Thanks to Phil Lovell and Penny Coulter for leading this work and for the detailed analysis.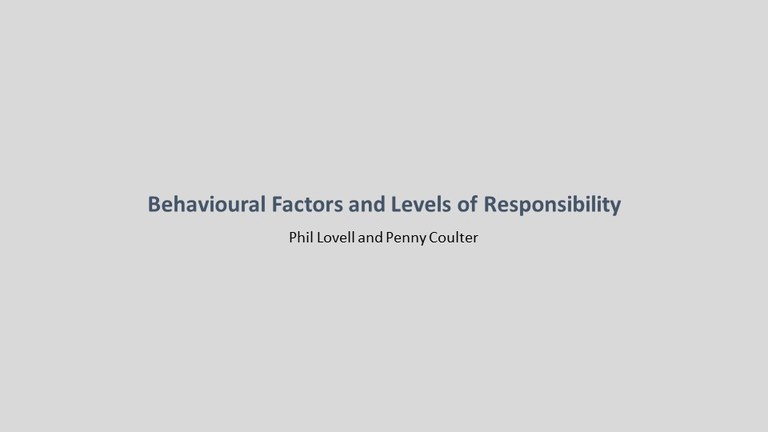 Timeline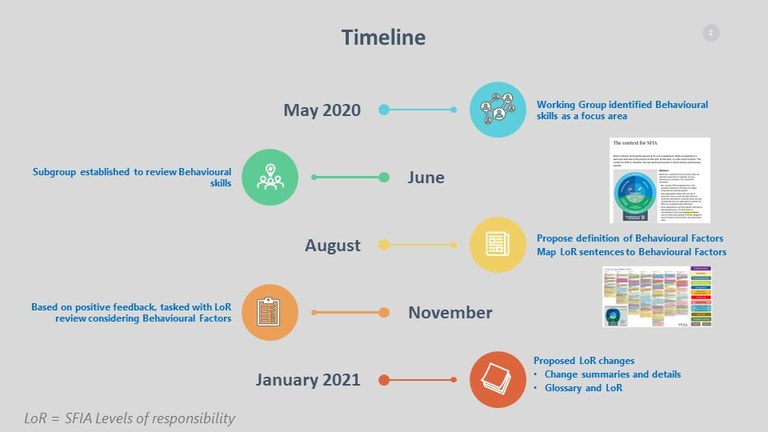 Behavioural factors in SFIA's levels of responsibility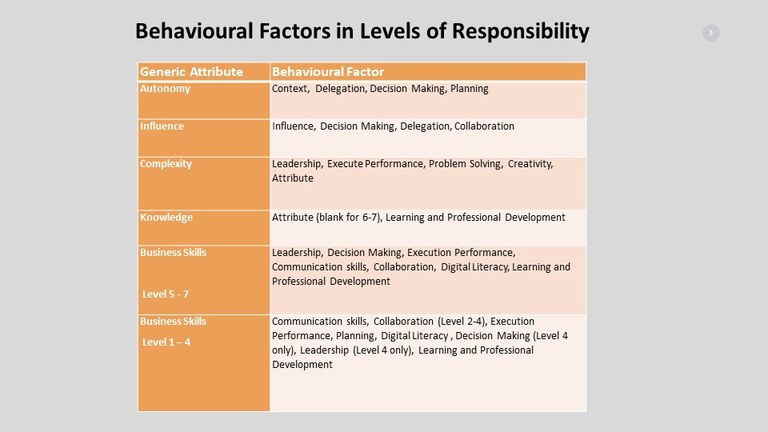 Impact analysis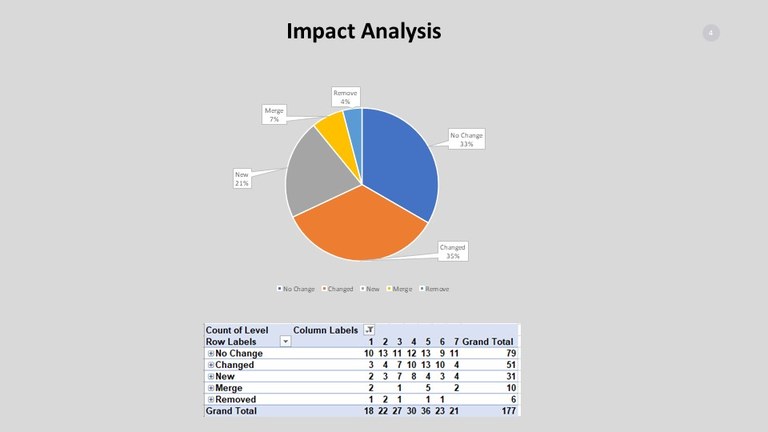 Design goals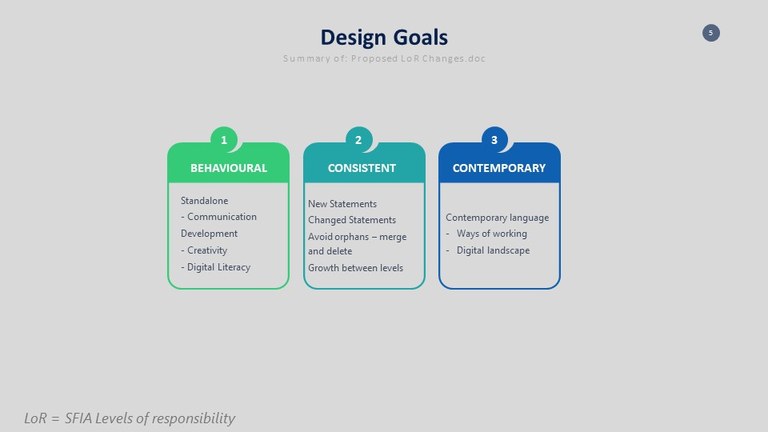 Example - Learning and professional development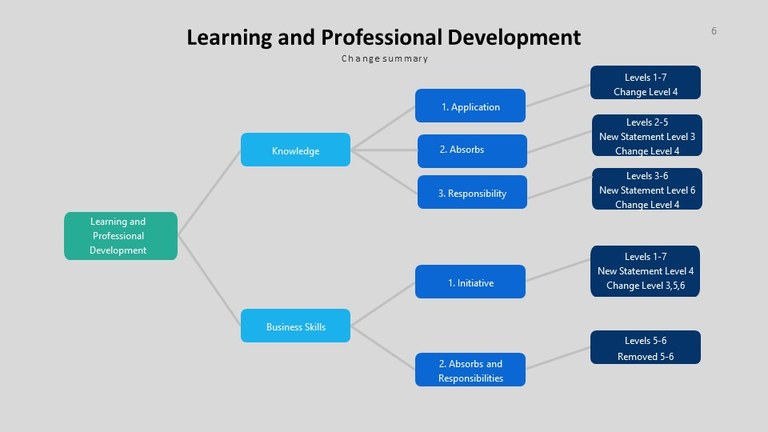 Tracking changes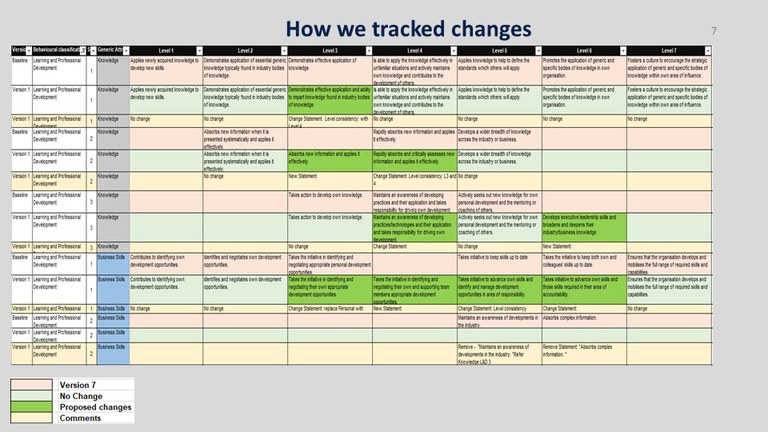 Side by side view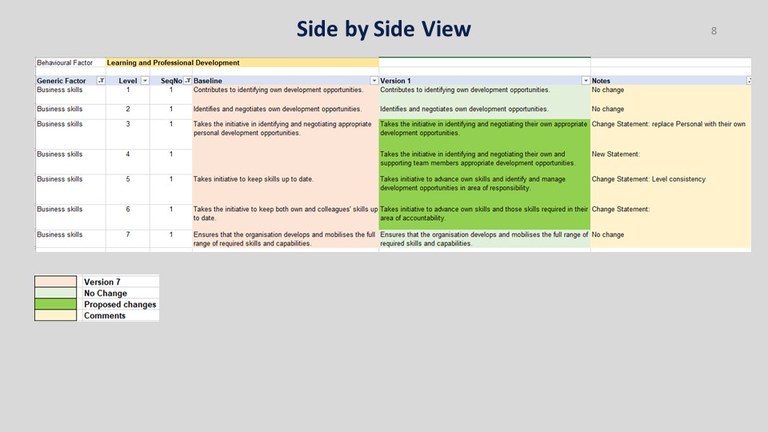 Behavioural factor glossary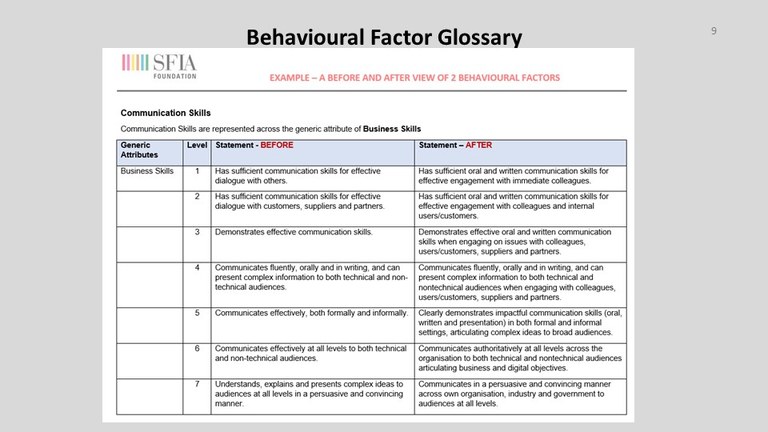 Filling gaps in the generic attributes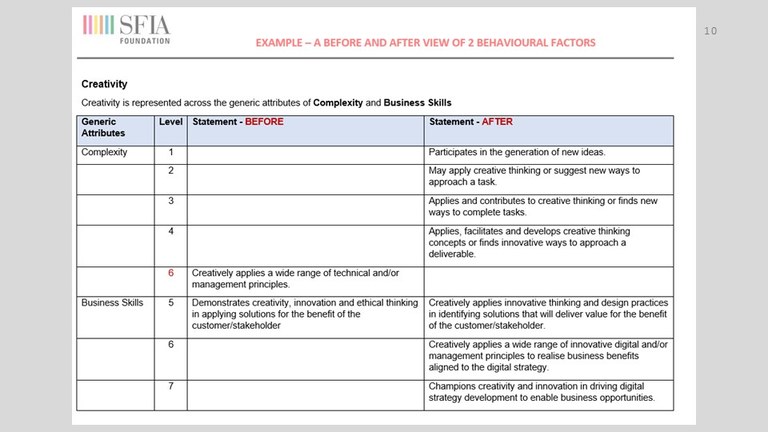 Glossary
Example - Decision making factors
where they described in SFIA's generic attributes
 Summary of proposed change for the generic attributes
1. Behavioural Factor Development
Goal: for Behavioural factors described in the glossary to be meaningful and complete in their own right – refer to glossary.
Goal: To develop behavioural factors from an existing LoR content also taking into account those ideas which were identified by the working party.
Digital Literacy

Creativity (note: in complexity for levels 1-4 and in business skills for level 5-7.

Ethics
2. Generic Attributes
Goal: To group behavioural factors consistently in generic attributes.
Planning statements found across Business skills and Autonomy. Moved to Autonomy. 
3. Consistency across levels
Goal: To create consistent statements across all appropriate levels
New Statements when there appeared to be a gap.

Change existing statements when required.
Goal: To avoid "orphan" statements which contain activities that are not developed across levels.
Combined / Merged when: the orphan statement can be "married' up with an appropriate statement

Removed when: The statement either applies to all e.g. references to WHS from Level 1, or is addressed in another statement, or its extension across levels was not identified
4. Scope
Goal: To provide comparative and equally well-developed scope parameters to delineate levels.
Scope of work: we looked at PMBok Work Packages (3), Deliverable (4), phase (5) and then made some adjustments to acknowledge BAU
Level 3: Own Assignment

Level 4: May be involved in cross functional teams within IT, Deliverable / Scope of work / framework of accountability.
Level 5: Stages, Group, Area of responsibility, Responsibility
Level 6: Area of organisation, Accountability

Level 7: No change
Scope of Relationship: we carried over groups e.g. with colleagues, user/customer and suppliers and partners, across levels where appropriate.
Level 3: Demonstrates effective oral and written communication skills when engaging on issues with colleagues, user/customer and suppliers and partners.

Level 4: Communicates fluently, orally and in writing, and can present complex information to both technical and nontechnical audiences when engaging with colleagues, user/customer and suppliers and partners.
Level 5: Clearly demonstrates impactful communication skills (oral, written and presentation) in both formal and informal settings articulating complex ideas to broad audiences.
5. Contemporary Ways of Working
Goal: To find contemporary alternatives for words like "Supervisory" e.g. oversee, close direction.  Minimal changes
Goal: To ensure a broad statement includes contemporary ways of working E.g. digital strategy, digital objectives, digital skills and digital services (covering 9 business skills statements)
New statements added for Collaboration in Business skills level 4, 5 and 6.
6. LoR proposed statement order for A3
Goal: To provide a logical and consistent way of presenting individual statements.
Approach has been to present statements by Behavioural Factor in the order the statements appear within the behavioural factor.  In Business skills the order has been varied between Levels 1-4 and levels 5-7.
Generic Attribute

Behavioural Factor

Autonomy

Level 1 - 7

Context

Delegation

Decision Making

Planning

 

Influence

Level 1 - 7

Influence

Decision Making

Delegation

Collaboration

 

Complexity

Level 1 - 7

Leadership

Execute Performance

Problem Solving

Creativity

Attribute

 

Knowledge

Level 1 - 7

Attribute (blank for 6-7)

Learning and Professional Development

Business Skills

 

Level 5 - 7

Leadership

Decision Making

Execution Performance

Communication skills

Collaboration

Digital Literacy

Learning and Professional Development

 

Business Skills

 

Level 1 - 4

Communication skills

Collaboration (Level 2-4)

Execution Performance

Planning

Digital Literacy

Decision Making (Level 4 only)

Leadership (Level 4 only)

Learning and Professional Development