BABOK - A Guide to the Business Analysis Body of Knowledge
A Guide to the Business Analysis Body of Knowledge (BABOK® Guide) is the standard for the practice of business analysis and is for professionals who perform business analysis tasks. Recognized globally as the standard of business analysis, it guides business professionals within the six core knowledge areas, describing the skills, deliverables, and techniques that business analysis professionals require to achieve better business outcomes.
Introduction
The BABOK – Business Analysis Body of Knowledge is the trusted reference guide for Business Analysts developed by the International Institute for Business Analysts – IIBA
In Q1 2021 - the IIBA UK mapped SFIA 7 skills to BABOK knowledge areas (KAs)
The SFIA skills were selected on the basis that they were the skills needed to apply the knowledge described in the BABOK (KAs)
For simplicity - SFIA levels were not included in the mapping 
Additional work by IIBA volunteers is scheduled in 2022 to update the mapping and create additional guidance documents  such as standard IIBA UK Business Analyst job role descriptions
If you are interested - please get in touch -

[email protected]
Acknowledgement - Selected extracts from A Guide to the Business Analysis Body of Knowledge® (BABOK® Guide) Version 3.0, IIBA. 
SFIA 8 updates
SFIA 8 provided a number of enhancements to support business analysis -related skills
A pdf of the following slides is available
here
.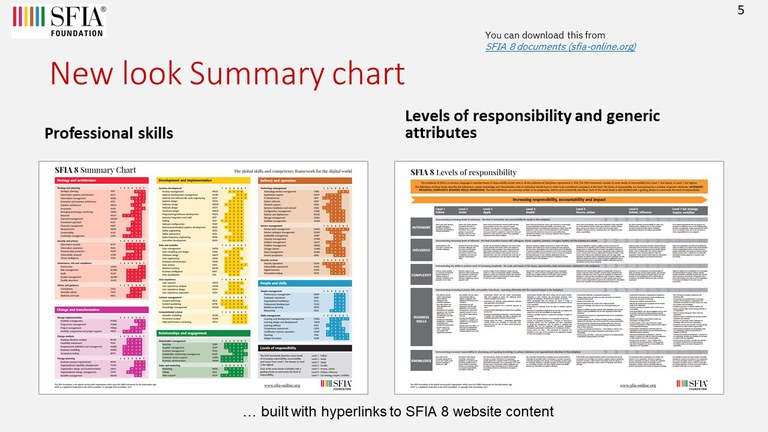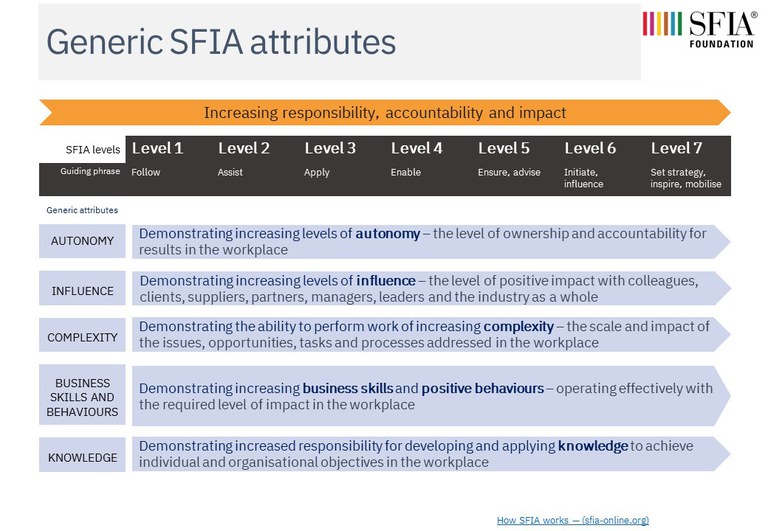 The Framework of the BABOK
Click image to see the relationship between the BABOK knowledge areas...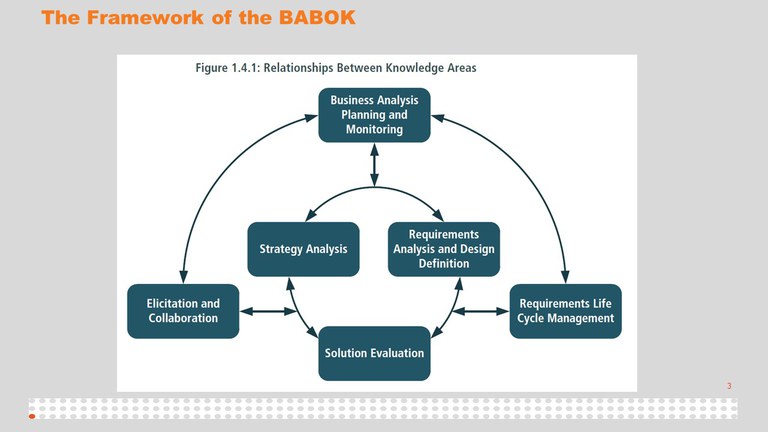 Approach used to develop the mapping
Each of the knowledge areas in the BABOK were analysed to determine the related SFIA skills. To help adoption - these were further refined into 2 groups.
SFIA skills most likely to be used

Other SFIA skills that may be used
Business analysis planning & monitoring
Topics...
Plan business analysis approach: includes selecting/ creating methodology & planning individual activities, tasks, & deliverables
Plan stakeholder engagement - includes understanding the stakeholders, theirs and our mutual needs and the best way to collaborate
Plan business analysis governance - includes plans for decision making & working within established governance frameworks such as for risk
Plan business analysis information management - setting out how the information captured by the BA will be stored, used and integrated with other information
Identify business analysis performance improvements - to identify how commitments will be met and how continuous learning opportunities will be realised
Click image for SFIA skills mapping.
Elicitation and Collaboration 
Topics...
Prepare for elicitation - includes conducting any research & building a shared set of expectations with stakeholders
Conduct elicitation - includes the work to understand stakeholder needs and to identify potential solutions
Confirm elicitation results - includes cross referencing with other artefacts and ensuring stakeholders have a shared understanding of the outcomes of elicitation
Communicate business analysis information - presenting information back to stakeholders in a digestible manner and a timely way
Manage stakeholder collaboration - to engage stakeholders appropriately such that desired analysis outcomes can be reached
Click image for SFIA skills mapping.
Requirements Lifecycle Management
Topics...
Trace requirements -

includes analysis & modelling of relationships between requirements & artefacts, to improve clarity and understanding

Maintain requirements - ensures requirements & designs are accurate, curremt & reusable
Prioritise requirements - ensures work can be scoped and adjustments made as and when priorities or criteria for inclusion change
Assess requirements changes - implementation of controls to ensure there is a stable baseline to the requirements
Approve requirements - ensures relevant stakeholders give their support and buy in to the products of the requirements activities
Click image for SFIA skills mapping.
Strategy Analysis
Topics...
Analyse current state - sets the baseline and context for change
Define future state - sets the objectives of the change and clarifies which parts of the enterprise will need to change
Assess risks - ensures challenges ahead are identified and plans made to deal with these appropriately
Define change strategy - implementation of controls to ensure there is a stable baseline to the requirements
Click image for SFIA skills mapping.
Requirements Analysis & Design Definition
Topics...
Specify and model requirements - using information elicited to build requirements from which to move forwards with the change
Verify requirements - ensuring the requirements are specified to the required level of detail and completeness
Validate requirements - ensuring these are accepted as representative of the stakeholders needs
Define requirements architecture - ensures the various views, models and or catalogues/ backlogs created form a coherent whole/ a complete story
Define solution options - sets out potential ways forwards
Analyse potential value & recommend solution - provides relevant information to support decision making and pointers to the way forwards
Click image for SFIA skills mapping.
Solution Evaluation
Topics...
Measure solution performance - design and carry out the measure against enterprise goals and objectives
Analyse performance measures - examines findings to determine whether the solution is meeting the business needs
Assess solution limitations - looks for underlying causes as to why the solution is not meeting business needs
Assess enterprise limitations - looks for underlying causes as to what is preventing the enterprise from realising the full potential of the solution
Recommend actions to increase solution value - exactly as it sounds
Click image for SFIA skills mapping.
All slides can be downloaded here.
Listing of all the SFIA skills mapped from the BABOK
Click on each skill name for full descriptions including skill level descriptions.