Assessor's guidelines
Guidelines for SFIA assessors - a description of recognised and generally accepted good practice in the field of SFIA assessment.
These guidelines are for people who are using SFIA to assess the skills and competencies of other people.
SFIA assessments typically form part of a wider end to end process, e.g.
Employers use assessments across the human capital development cycle; recruiting, onboarding, learning and development, performance management, resourcing, career development and talent deployment, leadership development, engagement and retention, employee experience and wellbeing.
Professional and/or industry bodies use assessments to certify competency levels, maintain register of member's skills, assess industry / or national skills gaps
Service providers use assessments to evaluate and describe the capabilities of their people and provide like for like cost comparisons
Training and education providers use assessments to evaluate the outcomes of their learning activities
The SFIA Foundation has published complementary Guidelines for independent/objective SFIA assessments to help organisations establish their preferred approach for SFIA assessments.
Who can perform SFIA assessments?
SFIA is designed to be a practical resource for people who manage or work in or around information and communication technologies, digital transformations and software engineering.  
SFIA has a simple and consistent structure and avoids technical jargon.
This means that for most of the purposes listed above; assessors do not require in-depth training in SFIA before performing an assessment.
However ...
assessors need to be experienced professionals who understand the industry context of the SFIA components being assessed
as a minimum, assessors need to understand the SFIA framework and concepts sufficiently to perform the required assessment.

this can be achieved using the material available on the SFIA website and/or using in-depth SFIA training

assessors should be competent and knowledgeable in the methods/tools needed to perform the assessment. E.g. competency-based interviewing
typically, assessors should be operating at a SFIA level 4 or higher.
depending on the context of the assessment; assessors may need to be operating at higher SFIA levels for assessing higher level individuals.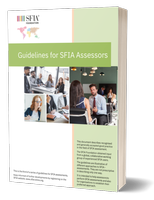 Download a pdf of the guidelines here - Guidelines for SFIA assessors.

Using self-assessments
In most cases - to prepare for a SFIA assessment, it is good practice to ask the individuals being assessed to complete a self-assessment. 
The benefits of incorporating a self-assessment include:
to engage the individuals in the process leading to greater understanding and ownership of the outcomes of the assessment
to give the assessor a broader perspective enabling them to see things from the individual's point of view
to provide an early warning of differences in perspective ahead of any meetings or discussions
It is recognised that in some cases; a self-assessment may not be the preferred approach.
The SFIA Foundation has published complementary Guidelines for SFIA self-assessments.
The importance of being objective and impartial
For a variety of reasons,  it is difficult to be objective, impartial and consistent in a self-assessment. E.g.
by mis-understanding the definition of the SFIA skills e.g. by relying only on the skill name and not taking note of the skill description
by over- or under-estimate their skill levels
So, the role of an assessor is key to provide an independent/objective view of SFIA skills and competency levels, based on the context and intended outcomes of the assessment process.
SFIA helps by providing a structured framework, with clear incremental skill level descriptions to aid objectivity.
Accuracy and robustness are also improved by using an assessment process which relates SFIA skills to documented evidence of workplace experience
Following these guidelines means that a SFIA-based assessment provides a good starting point for professional discussions related to work experience, achievements, skills and professional development.
Consider SFIA generic levels 1 to 7
Assess against autonomy, influence, complexity, knowledge and business skills
Record results

Target skills to assess e.g. for current or future role, a job vacancy or against industry standard definitions

OR

Navigate the full set of SFIA skills to find the skills relevant to your work experience

For each SFIA skill you select:

Read SFIA skill description
(confirm it matches your experience)
Read SFIA 'skill at a level' description
Select and record appropriate level(s)

If you choose a level that exceeds your overall level of responsibility assessment; confirm by reviewing the  Assess SFIA level of responsibility step.
Key points
SFIA is designed to be easy to understand and use.
A SFIA assessment can be performed quickly. However, significant value can be obtained with more thought and a little preparation.
Understand why you are performing the assessment, what the desired outcomes are, and, what part you as the assessor play in any end-to-end assessment process.
Familiarise yourself with the key concepts of SFIA
Consider both the generic attributes that characterise the levels of responsibility and the professional skills described in SFIA
SFIA is about experience of performing the skill not just having knowledge of the subject matter
Follow a structured assessment process, based on the individual's work experience to assess accurately with good supporting evidence.
Pick the SFIA skills relevant to your use of the assessment.
The assessment does not have to address all skills, only those necessary, and it may be added to incrementally in the future
It is good practice to collate and record evidence to justify the skills and skill levels claimed
Detailed guidance
Target audience
Line Managers, practice managers, HR & L&D consultants, resourcing specialists, recruiters, SFIA consultants & practitioners who are using SFIA to assess other people's skills and competencies
Employers, professional bodies and other organisations who want to understand generally recognised practice in the using SFIA to perform independent/objective assessments.
Notes
SFIA is a flexible resource and can be applied in many ways. 
These guidelines are illustrative, and present alternative approaches. They do not mandate a single definitive approach.
The approach you choose will depend on the purpose of your assessment, your work or academic environment and the planned use of the assessment outcomes.
There is an active global ecosystem of SFIA Partners, SFIA Training Providers, SFIA Consultants and Practitioners. They are available for advice on SFIA assessments and the use of specific processes and tools (including skills assessment software) to support SFIA assessments. Details are available on the SFIA website, alternatively contact the SFIA Foundation directly.
The backbone of SFIA is a common language to describe levels of responsibility across roles in all the professional disciplines represented in SFIA.

The value of the generic SFIA Levels of Responsibility is often overlooked by new users of SFIA. Experienced users recognise that the levels of responsibility provide the solid foundation for SFIA skill level assessments.

 

Review and understand SFIA's generic levels of responsibility.



This is an important first step which will provide the foundation for the next steps in the assessment and beyond.

Read through the generic descriptions. 

Notice the incremental difference in each responsibility as you move from level 1 to 2 to 3 etc.

Do this for each of the 5 generic responsibilities in turn.

You will start to get a feel for which level matches best to the individual's achieved level of responsibility. 

Notes

The SFIA Framework consists of seven levels of responsibility from Level 1, the lowest, to Level 7, the highest. The levels describe the behaviours, values, knowledge and experience that an individual should have in order to be identified as competent at the level.

There are 7 levels of responsibility in SFIA; each are described by 5 generic responsibilities.

The levels are precisely written to be progressive, distinct and consistently described.

The generic responsibilities describe five important attributes of responsibility called autonomy, influence, complexity, knowledge and business skills.

These are applicable to all jobs and roles no matter what the specialism, the size or nature of an employer, the geographical location etc.

This content can be found on the SFIA Foundation spreadsheet, the A3 chart, the complete reference guide and the SFIA website.

 

Consider how the expectations of the individual's relevant jobs or roles match to SFIA's generic levels of responsibility.

 

 

Notes

Remember, at this stage the focus is on responsibilities based on the individual's actual work experience; not what they have potential for or aspirations towards.

While SFIA does not align years of work experience to SFIA levels; it is natural that to build up experience to match the higher SFIA levels will take time and opportunity.

The individual's accountabilities / responsibilities may be documented formally in a role profile, job description, position description, or a "terms of reference" for a piece of work or assignment. In many cases, it may be less formal. You could discuss with the individual's line manager or co-workers to get their views

If the individual has experience of operating at a higher level in previous role assignments, then you may want to consider that experience too (see guidance on Recency below).

You may think that the individual is contributing more or less than the formal expectations of the role – again you can use the SFIA Levels of Responsibility to highlight the behaviours/attributes /competencies they have demonstrated.

 

You will now have a good understanding of the individual's normal level of responsibility.

This indicates the SFIA level at which the individual successfully operates at work.

Make a note of the level(s) as it provides a very good sense check for the individual's maximum skills levels in the following steps of the self-assessment.

Alternatives

Assessment against the Level of Responsibility can be done in a variety of ways. Select the approach which is optimal based on the reason for doing the assessment.

A single, combined, overall assessment – considering all the 5 generic attributes but not scoring each individually

Assessment against each generic attribute to inform an overall level of responsibility. Use this to highlight strengths and development areas against each attribute.

Assessment using a graduated rating scale instead of a binary yes or no. This can provide a richer picture to inform the overall assessment.

Assessment against each of the indicators within the generic attributes separately, to create a detailed diagnostic of the individual's strengths and development areas.
One of SFIA's strengths is its comprehensive, industry-wide, coverage - as a result there are many different professional and technical skills described in SFIA.  

SFIA is a flexible resource, and, to assist navigating the framework, the skills can be grouped, filtered, and viewed in alternative ways to support specific disciplines, organisations and frameworks and the different needs of users.
The SFIA website provides some helpful views of SFIA skills and the SFIA Complete Reference Guide uses categories and sub-categories to group skills.

Before performing the assessment, you should consider the different ways to identify and prioritise the skills to assess against.

 

Option 1 - use the SFIA Categories and Sub-categories

The SFIA framework groups skills into categories and sub-categories. Colour coding is also used to identify the categories. This is shown on the website, the Complete Reference Guide and the A3 sized summary chart.

Note ...

 

The SFIA categories are

Strategy and architecture

Change and transformation

Development and implementation

Delivery and operation

Skills and quality

Relationships and engagement

The categories and sub-categories do not have definitions themselves; they are simply a structure to aid navigation. They do not equate to jobs, roles, organisational teams or areas of personal responsibility. 

It is common practice that skills for a specific job description are made up of skills taken from multiple categories and sub-categories.

The categories and sub-categories are intended to assist with navigation, e.g. when incorporating SFIA skills into role profiles, job descriptions, or, when building an organisation's own competency framework.

There is a risk of missing relevant skills using this method. This can happen if assumptions are made based on category/sub-category names and if the assessor does not have knowledge of all the skills in the framework.

If you cannot locate a skill - you should refer to the alphabetical list.

 

 Option 2 - use the  SFIA Views

The SFIA user community has developed a number of views based on domains of interest. They provide a sub-set of the SFIA skills. You can use these views to focus on the skills that may be most relevant to the individual's areas of experience.

The views are intended as guidelines only. Contact the SFIA Foundation if you can't find a view that you are looking for.

 

If you cannot locate a skill - you should refer to the alphabetical list.

 

Option 3 - use the Alphabetical list 

If you know the name of particular SFIA skills, you can find them in the A-Z index, or you can simply read through the skills in order.

Notes ...

Assessments against all of SFIA skills are the most comprehensive

It can also be a non-directive way of identifying the relevant skills – i.e. without an overlay of SFIA categories or views.

Some organisations maintain employee skills inventories to support workforce planning, resourcing and agile working practices. In these cases, a comprehensive assessment of all the individual's skills can be useful.

Assessing against the entire SFIA framework can be valuable in ensuring that nothing is inadvertently missed. Of course, this may require a greater investment of time.

 

Option 4 - use the standard Job Roles


Some assessments may be performed against the requirements of a specific job or role. For example, for a job interview.

 

Examples ...


The SFIA framework does not prescribe jobs or roles. However, SFIA provides the foundation for a number of industry approaches to defining roles.

Employer provided job roles / SFIA skills profiles

Vacancies posted with SFIA skill and skill level expectations

Some professional bodies have industry-based accreditation schemes based on SFIA skills and skill levels

The SFIA framework does not describe jobs or roles. However, SFIA provides support for a number of industry approaches to defining roles.

European ICT

GDS / DDAT roles

Job Families

Other standard skills profiles may be available from other sources e.g. from the Australian Public Sector, Chilean Government

Use care when using industry profiles - they are usually generic and may not always be suitable for your specific needs.

Note that some organisations may name the skills differently to SFIA. If you cannot find a particular skill in SFIA, it may be worth reading through the alphabetical list for variations to the name you are familiar with.
Once you have selected the SFIA skills to assess against. There are different options for assessing SFIA skills and recording a SFIA skill assessment.

If you are doing this as part of a managed process or tool; then the approach is likely to be prescribed for you.

If you are doing this as a stand-alone exercise, then select an approach which will support the purpose of the assessment.




 

Read the SFIA skill names and overall skill descriptions of the skills you want to assess and confirm that the skill described is relevant to the individual's experience.

 

 

Notes ...

The overall SFIA skill description is important as it provides the context for the individual skill level descriptions

There are some SFIA skill names which appear to have a similar scope. By reading the overall skill description you can be sure to choose the right one. E.g. Consulting (CNSL) and Specialist Advice (TECH), Emerging technology monitoring (EMRG), Innovation (INOV) and Research (RSCH). 

 

Decide which Skill-at-a-level descriptions are relevant for this assessment.

Depending on the purpose of the assessment; there are different approaches to selecting which skill levels to assess against:

1. Assess against all skill levels, working upwards from the lowest level

2. Assess the skill levels which are closest to the individual's selected generic level of responsibility - see above

3. Target the individual's assessment at the skill level targets you are assessing against. E.g. for a job vacancy, a skills profile for their current or future role, a professional certification

Read the skill-at-a- level-descriptions and compare the individual's work experience to the activities and responsibilities described.

Notes ...


Professional judgment is required when assessing; not a simplistic tick-list, check-box approach against the phrases in the skill level descriptions.

The SFIA skill-at-a-level descriptions are written in plain, jargon-free language to enable you to match the individual's work-experiences to the levels described.

SFIA skill-at-a-level descriptions describe real life, work-based experiences and actions. If the individual has not done what the level description says, then they don't have the skill at that level.

If a skill-at-a-level is relevant to the individual, it should be repeatable – that is, they have done the activities described successfully, done them more than once and could do them again.

SFIA level descriptions are not descriptions of knowledge. They describe the application and mastery of skills in the workplace, not just knowledge of the topic or subject matter area. The descriptions focus on how knowledge is applied to produce results in the workplace. The individual can be very knowledgeable but not have had the opportunity to apply their knowledge in a work environment. If that is the case, they could not be said to have the skill.

The descriptions are diagnostic, not prescriptive. The SFIA skill is not intended as a complete definition of all the activities that could be carried out by someone with that skill. It is intended for diagnostic use: to help determine if a given individual has the skill; and if so, at what level.

SFIA skill descriptions are not always cumulative between levels. Depending on the purpose of the assessment – it may be useful to capture all applicable levels to provide a comprehensive view.

 

Record the individual's skill levels.

As with the generic levels of responsibility, there are options for recording the results of the assessment. 

A single level number per SFIA skill to represent the highest level for each skill you have assessed against.
A graduated rating scale instead of a binary yes or no against all levels relevant for the individual's assessment (see appendix). This can provide a richer picture to inform the overall assessment.
Capturing all levels of a skill demonstrated by the individual.
A diagnostic, micro-assessment against each of the indicators within the skill-at-a-level description

Notes ...

A single level number for a skill does not imply that you have skills to perform all the activities describe in lower levels. If that is important for the purpose of the self-assessment you should also assess against all the relevant lower levels.

SFIA does not define technology, methods, approaches or technical knowledge because these change rapidly but the underlying skills are more persistent. However, these elements can be mapped against SFIA skills, and act as skill attributes.

The individual skill levels you select are likely to be closely linked to the individual's overall / dominant Level of Responsibility (from step 1). This is because the SFIA level descriptions are based on the Level of Responsibility (see SFIA "Skill-at-a-level graphic")

SFIA does not describe all skills at all 7 levels. This is a specific design feature which reflects that not all professional skills are applicable at all levels. This means that on occasions you may look for a SFIA skill-at-a-level it does not exist. In that case you will need to search for a related skill e.g.

Managing software development projects or teams are described in the SFIA skill called Programming/software development (PROG,) higher levels skills related to running systems development functions are described in the skill called Systems development management (DLMG).

Number of skills

There is no target for the number of SFIA skills an individual should have

The appropriate number will be dependent on the individual's own experience, the nature of their specialisation, the operating model and size of the organisations they have worked in, and on the structure of SFIA (some skill areas are decomposed to a lower level than others)

Taken in isolation, the total number of SFIA skills is not a significant measure of worth or value

 

If the Skill-at-a-level description seems too low/too high for the individual's experience, then consider the levels immediately above and below.

If you have chosen a level which is higher than the individual's generic level from the previous steps, you should go back to confirm if you also match the higher generic level.

To be fully competent at a target skill level it is usually expected that you meet the Level of Responsibility characteristics at the same or higher level.

However, in some circumstances it can be very useful to identify the individual's professional work experience at SFIA skill levels higher than their level of responsibility.

By doing this you can indicate areas where the individual is developing beyond the core competency level and/or they could be expected to execute some work activities requiring that level of skill

 

Evidencing the SFIA assessment

 

It is generally good practice to record evidence to support the assessment. In many use cases, recording supporting evidence will be necessary to make further use of the assessment.

SFIA describes work-based responsibilities

It follows that an assessment of skills has to focus on the individual's experience of doing something, in the workplace and that experience should preferably have been repeated more than once over a period of time

For this purpose; examples from the individual's "body of work" are useful to support your assessment.

Notes ...


 

Examples from the individual's "body of work" should meet the following criteria ...


They should relate to something that they have specifically done or achieved; not something that the individual's team or colleagues have done

They should describe an activity that has already happened.

They are not intentions for the future or what you feel you could do if you were given an opportunity. The individual's skills assessment is focussed on demonstrated behaviours / achievements not about potential.




Recency of experience

The individual's skills assessment should be contemporary, meaning they could use any of the skills selected, at the level you determined, to get a job done.

Generally, if an individual hasn't used a skill for a long period time, their ability to perform that skill will be significantly diminished. A SFIA assessment should focus on the skills the individual has used in the last 5 years (+/- 2 years depending on the nature and level of the skill)

In some use cases it can be helpful to record skill levels older than this but try to distinguish them from current skills. A record of older skills can be useful in a number of ways:

provide context for the individual's current skill set / work experience

demonstrate to others how the individual's career history and portfolio of skills have evolved over time.

Provide a complete skills inventory for organisational resourcing purposes, for example if a skill needs to be reactivated, brought back into currency, and utilised.




Application of knowledge not the acquisition of knowledge

Academic or theoretical knowledge can be a vital component of competency. However, SFIA's focus is on how that knowledge is applied to produce results in the workplace.

Being knowledgeable of, and working across, many disciplines does not mean an individual has the skills related to those disciplines E.g.

Working as an Enterprise Architect gives insights and exposures to many disciplines, but that does not mean the individual has all the related skills

Being the manager or Chief Technology Officer of many people or teams means the individual will have a broad understanding of what their people do, but, it does not mean they have their skills or that they have the highest skill levels in their team

Expert knowledge is not the same as a high level of competency.


Being a level 6 or 7 in SFIA does not, in isolation, equate to being a deep subject matter expert. Instead, they relate to strategic/operational leadership in a skill or discipline.
Illustrations
Click on the links to view the image.
Level of responsibility assessment
SFIA skills assessment