July 2020 - SFIA 8 consultation update
A 2 minute update on the SFIA 8 consultation - and a reminder of how you can get involved.
Estimated reading time - 1 min, 27 sec.
Application of Blockchain...
We have published some learning resources and SFIA skills mapping related to Blockchain
All pages are available for comment or you can contact me direct
Information and cyber security skills and competencies...
Globally - there is a lot of industry and government activity in this area. We are keeping in touch with this where we can.
The SFIA Foundation is talking with USA-based industry bodies on potential new collaborations 
Others are welcome to join in and contribute.
We have a small team of volunteers progressing the detailed analysis work to support the SFIA 8 consultation.
Review SFIA support for people and skills management...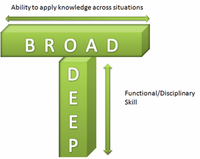 Reviewing SFIA change requests and analysisng current industry-based skills and people management models
Looking at modern practice in team management - including self-organizing teams and T-shaped roles
Employability - bridging the education to work gap...
How SFIA supports apprenticeships, industry placement and competency-based curriculum design
This is an area where an industry/workplace based competency model like SFIA has a vital role
Keeping up with the hype...
Our industry thrives on the potential of emerging technologies - but hype does not easily equate to value
The SFIA framework describes the long lasting  professional skills needed by industry
When we get requests to include new technologies in SFIA - we undertake analysis to identify the required professional skills
Using this approach means we can help individuals and organisations to value and build on the skills they already have 
Often new technologies require the application of new knowledge with existing SFIA skills Credit to marketoonist.com
We want to include more people…
If you would like to help with SFIA 8 or share your ideas with the SFIA Foundation, then contact me
Any areas you are interested in hearing more about - take a look here
You can invite others to join in…
SFIA Updates Manager & SFIA 8 Project Manager