November 2020 - SFIA 8 consultation update
A 2 minute update on the SFIA 8 consultation - and a reminder of how you can get involved.
Estimated reading time - 2 min, 12 sec.
First of all - many thanks to all who have contributed to SFIA 8 so far - it's a community effort and all your help is much appreciated.
Machine learning skills...
We are prototyping new and changed SFIA skills to support this theme
New skills for Machine learning and Teaching of machines 
Changes to the SFIA 7 Analytics skill
Please get in touch if you work in or around data science and machine learning and you can contribute to this work.
Computational science and high-performance computing...
The working group has identified 3 new skills to be explored

Scientific modelling
Numerical analysis
High performance computing

More details here- Computational science skills in SFIA  
Please get in touch if you work with science organisations and you can contribute to this work. 
Digital apprenticeships...
There is a lot of interest in using apprenticeship scheme as a route to acquiring and developing people with skills for future work
We are looking to map SFIA to the digital apprenticeship standards used in England.

This should identify gaps for SFIA to address and trial an approach for other apprenticeship (or similar) schemes to adopt/adapt. 



More details here - Digital apprenticeships in England
Mappings to other industry frameworks…
Readability...
We have a group of experienced SFIA users looking at 2 opportunities to improve the readability of the SFIA skill descriptions

Strong first sentences. Providing a short and concise summary of the content of the rest of the skill description. The aim is to help the reader quickly understand what the rest of the paragraph will be describing.
Reducing the length of long sentences - our priority is the c. 100 sentences which are contain 30 words or more

Shorter sentences in general will also aid translation - whether by machine or human translator. 
 Tracking changes for SFIA 8...
The SFIA 8 project is now reaching the stage where we start to create draft content for the new version of SFIA
These will be published on the SFIA 8 web pages as "draft, proposed" content. 
The website can display changed text in green font and removed text in red strikethrough font
This is a key part of our transparent approach
Comments on proposed changes are welcome
There is another benefit in loading proposed changes as early as possible - it enables us to begin the translation through our tool (Memsource)
Thanks in advance for our volunteer translators around the world.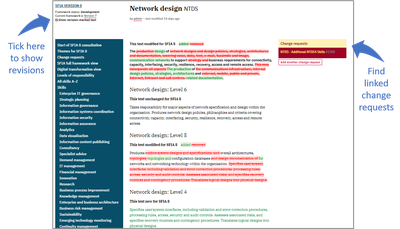 Click for enlarged image.
We want to include more people…
If you would like to help with SFIA 8 or share your ideas with the SFIA Foundation, then contact me
You can invite others to join in…
SFIA Updates Manager & SFIA 8 Project Manager