March 2021 - SFIA 8 consultation update
A 2 minute update on the SFIA 8 consultation - and a reminder of how you can get involved.
Estimated reading time - 1 min, 56 secs.
Thanks to all who have contributed to SFIA 8 
it's a community effort and all your help is much appreciated.
We are now focussed on pulling together the analysis and recommendations to create the new content for SFIA 8.
if you can help with any of the activities below please get in touch
help with reviewing, testing and proof reading will be very valuable over the coming months
SFIA 8 launch plans...
we can confirm that we plan to publish SFIA 8 in Q3 2021 - and mid-September is our target
the most visible part is - of course - updating the content of the core SFIA framework
the graphic gives a overview of activity over the next few months
we will publish a beta version of SFIA 8 in June - to encourage focussed feedback
the content will be locked in August - at that point the English language content is ready for publication and closed to further changes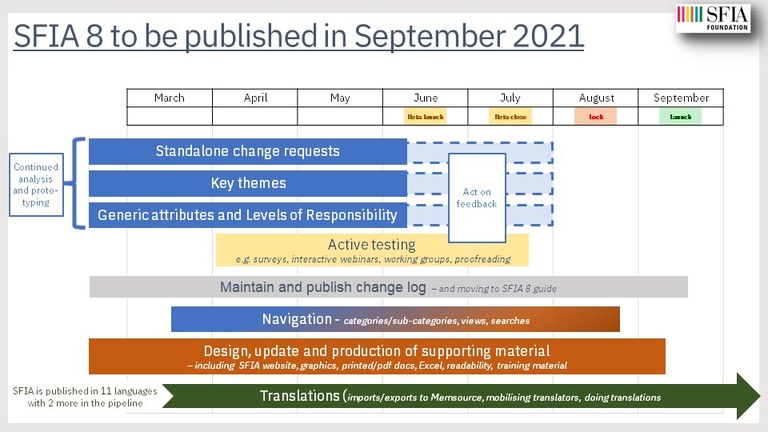 click image for pdf of this graphic
Active testing...
SFIA 8 will introduce new core content - and we also like to keep the supporting material fresh, relevant and useful
It is very valuable to have the content and supporting material reviewed and tested by SFIA users
Translations...
SFIA is published in 11 languages with 2 more in the pipeline
we are largely dependent on volunteers for translation
we have found that using translators who know the framework produces better quality results
if you can help with the translation process - please get in touch 
Navigation...
there is a lot of useful information in SFIA framework and on the website
a growing challenge is helping people find what they need
we have introduced a number of features to do this - the SFIA views, the links to related SFIA skills, the list of bodies of knowledge
we plan to do more to help navigation
The SFIA reference manual and the A3 chart...
These have always been key components of what SFIA offers
With SFIA 7 we made a number of improvements to the SFIA reference manual and the A3 chart
We are actively reviewing what printed/pdf documents we should publish
If you have any suggestions - please get in touch
SFIA 8 change log...
As we approach the conclusion of the SFIA 8 consultation - please keep an eye on the change log to see the current status
Please browse the log and bookmark the page for future reference
We want to include more people…
If you would like to help with SFIA 8 or share your ideas with the SFIA Foundation, then contact me
You can invite others to join in…
SFIA Updates Manager & SFIA 8 Project Manager